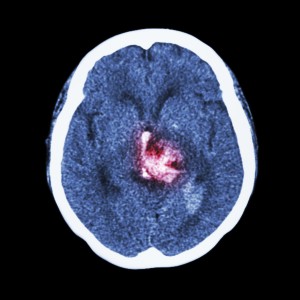 What is a stroke?
Stroke is one of the leading causes of permanent disability. A stroke occurs when there is a sudden loss of blood flow (perfusion) to a part of the brain. This can be due to a blockage (ischemic) or a bleed (hemorrhagic): the sequelae are the same. A stroke (cerebrovascular accident, or CVA) can affect vision, balance / coordination, speech, comprehension, expression, emotion, swallowing function, sensation to touch, movement of arms and legs (typically on one side), and bowel / bladder function. What is affected depends upon the location of the stroke, volume of infarcted (irreversibly damaged due to insufficient blood flow) tissue and duration of initial stroke symptoms. The duration is important because if taken to the hospital within 3 to 4.5 hours of the onset of symptoms, patients with an ischemic (non-bleeding) stroke may be candidates for thrombolytic ("clot-busting") therapy, which may reverse stroke symptoms.
IF A PERSON DEVELOPS THE SUDDEN ONSET OF SLURRED SPEECH, CONFUSION, INABILITY TO WALK, TALK, OR MOVE A LIMB, THAT PERSON SHOULD BE TAKEN IMMEDIATELY TO THE NEAREST EMERGENCY DEPARTMENT BY EMERGENCY MEDICAL SERVICES.
Typically, stroke results in impaired speech, difficulty swallowing, difficulty or inability moving the upper and or lower limb. The result is impaired communication, nutrition, ambulation, and ability to perform typical self-care tasks, or activities of daily living (ADLs). There is therefore a loss of independence. Incontinence of bowel and bladder may occur and typically improves. Other causes of incontinence such as urinary tract infection and or excessive laxatives / stool softeners or diarrhea associated with antibiotic use should be ruled out as these are reversible causes of incontinence. Occasionally medication is used to improve urinary incontinence. Bowel and bladder scheduling / retraining is particularly helpful. Incontinence is of major concern because it can be a significant determinant on whether or not a patient's family is able to provide care at home.
Occasionally stroke can result in increased muscle tone in the affected limb (spasticity), which may result in limb contracture. This should be addressed early to prevent permanent contracture. Bo-Tox administration and therapy (occasionally casting or splinting) are indicated for this with good results. Persons with stroke may also develop depression: this is more common in those with dominant hemisphere involvement (typically on the left). This is more common in those with a history of depression. Antidepressants are helpful, as depression has been shown to negatively affect stroke outcomes in spite of rehabilitation efforts.
Rehabilitation early after stroke is extremely important and has been shown to improve outcomes. The first couple of months after stroke are crucial for aggressive rehabilitation efforts as this is the period of increased neuroplasticity (a sort of brain tissue remodeling). Inpatient rehabilitation hospitals offer the greatest benefit due to the intensive multidisciplinary approach to stroke recovery. This setting offers oversight and daily visits by the rehabilitation physician, PT, OT, and Speech therapies, neuropsychologist testing and counseling, 24 hour rehab nursing care, and social work coordinating care both during and after the admission.
The risk factors for stroke include family history, previous stroke, high blood pressure, diabetes, high cholesterol, recent cardiovascular surgery, stimulant abuse, steroid use (increased along with tobacco abuse), to name a few. If these factors are present, exercise, diet modification to improve blood sugar control and lower cholesterol, stress management, cessation of tobacco, and stimulant abuse can reduce the risk of stroke.